Benefits:

We offer aggressive 100% Commission Plans.
No weekly sales meeting, caravans or quotas!
No Board of Realtor dues required.
No franchise fees.
No waiting on your commission, Only a $250 transaction fee required.
E&O Insurance

How we compare to Traditional Brokerages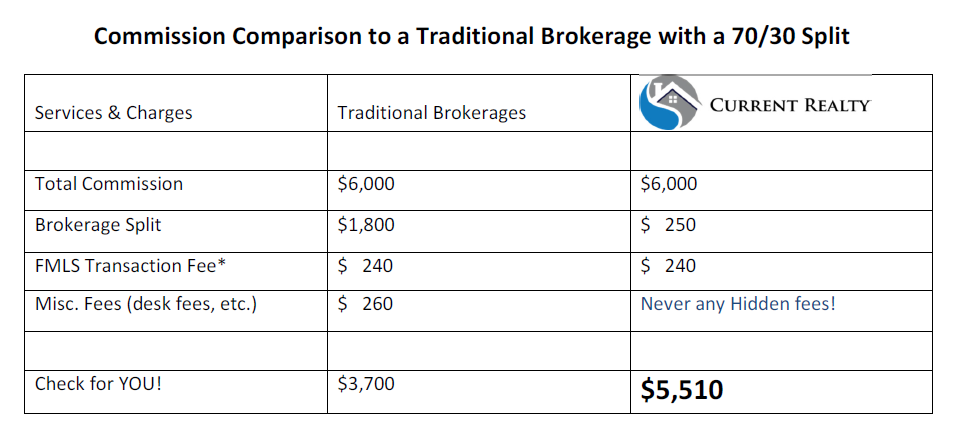 F.A.Q.
Will I have Broker Support?
There is full Broker support. Managing Broker is on duty Mon-Sat, 8am-8pm. All emails will be answered within the same day. Email is the preferred form of contact at Current Realty and always receive a fast response.
How will I be paid commission?
Current Realty will work directly with your closing attorney to have a check issues directly to you at closing. A separate check will be mailed to Current Realty containing your transaction fee.

May I negotiate my Commission?
Yes! We understand this is sometimes needed in today's market. Current Realty will allow you to negotiate your commission down as low as 1%.
How quickly can I start working?
As soon as all requirements are completed and submitted to the GREC. Your license can be activated quickly, typically 2 days.
Where do your Agents work?
They can work anywhere, anytime. Our Agents work from their own home office using our Current Realty Virtual Office.
How do I move my license over?
See our Careers page and click the Join Now! Button.
Why are the fees so low?
Current Realty has reduced much of the overhead a traditional brokerage has. We pass these savings to our agents helping them to build their Real Estate Careers.
Is Current Realty HUD Approved?
Yes. We are a HUD approved Brokerage.
Am I responsible for purchasing my own signs?
Yes, we have a preferred provider of signs. We have signage art on file waiting to be customized with your name and contact number. You are free to purchase your own, however you must use the Current Realty logo and be approved by Broker prior to use.
Can I take my listings?
Yes, you may take your listing with you when you leave Current Realty with no exit fees, ever.
What MLS is included for free?
FMLS, is offered free to all
Current Realty
agents. GAMLS is optional and requires an additional $25 monthly for membership.
Do you offer Recruitment Program?
Yes, we do. Inquire within.
Is Error & Omissions Insurance included?
E&O Insurance is included in all Agent Plans.
Can I get an advance on my Commissions?
Yes,
Current Realty
works an established national commission advance company.
I have questions about Current Realty; Can I speak with the Broker?
Yes, of course! Please use the contact form on the
Contact Us
page and request an appointment to speak with the
Managing Broker
to answer all of your questions about our Brokerage.
How do I Join?
Click on the link below to start the process. Filling out this form, will not qualify as affiliation with Current Realty. Agents will not be affiliated until all paperwork has been completed with the GREC.



Looking for a career in Real Estate?


Current Realty is partnering with Career WebSchool to offer online real estate courses. Career WebSchool offers self-paced online courses. Their students have a HUGE pass rate on state exams. Click on the link below for more information on the Georgia pre-license courses offered.